Whether you can give 5 minutes or 5 hours, if you are interested in volunteering, please let us know! Below are the numerous programs sponsored by the PTO....
Assemblies, Holiday Food Drives, Santa Secret Shoppe, Pancake Breakfast with Santa, Teacher Appreciation Luncheons,Fifth Grade Send-Off Banquet, Spirit Wear,
School Dances, Scholastic Book Fairs, Field Day, Family Movie Nights, Bingo For
Books, Spring Carnival, Bus Transportation for Field Trips,
Teacher Incentives (to purchase extras for their classrooms) and MORE...
The PTO is a ton of fun and the kids really enjoy and benefit from all the extra programs and activities. So if you can, please consider becoming a member of the PTO because with out parent volunteers none of the above programs would be possible!!
Sign Up for Upcoming Events here: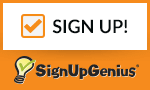 Please take a moment to fill out this Volunteer Form and send it in with your student or email it to allenpto@gmail.com